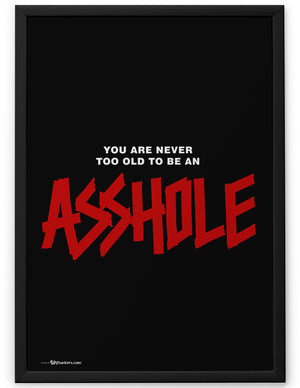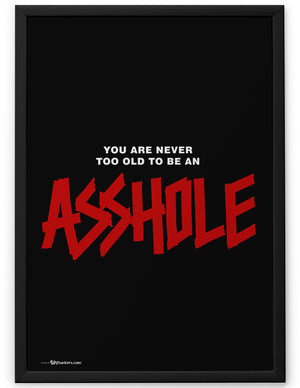 Sexy Hackers Clothing Inc.
You Are Never Too Old To Be An Assh*le Poster
You might be "too old" to wear Velcro shoes or watch SpongeBob, or even play in the ball pit at McDonalds, but you are never too old to be an asshole. Our society allows for unruly, irritating and vulgar people of every age, so feel free to be you.
So you roll out of bed with the realization that your home vaguely illustrates who you truly are. Dirty dishes inconveniently sprawling across kitchen counters, wet towels consuming the bathroom floor, old pizza boxes over-flowing the garbage. You're an asshole, no shame, no regrets; you just want visitors to know. With this displayed proudly at your front door, anyone brave enough to enter your home can't complain and should expect you to hog the television remote. Better buy it now before a bigger asshole does!